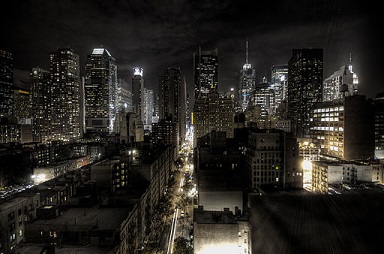 It was a dark and stormy night.
She wasn't seeking adventure, just something to eat.  A tiny voice within her told her that she could just call for delivery, but she ignored it, and in that moment, her fate was sealed.
She climbed down the endless dusty staircase out into the big wide world, only to realize that she had forgotten her umbrella.  She did what any princess would do in such a situation– she got wet.
It wasn't entirely unpleasant at first.  A little like a shower with surprisingly good water pressure.  But as her clothes took on weight and began to cling unpleasantly to her anatomy, she had a fleeting moment of regret.  Nonetheless, she continued her journey.
She had just rounded the first bend when she froze in absolute terror.  There in the path before her was the most terrifying creature she had ever beheld.  It had large tentacles and at least 6 legs, though in that lighting it could have been 600.  It stared at her with its protruding eyes, its tentacles moving menacingly in the streetlight.  She wanted to scream, but her vocal chords, and the rest of her, were completely paralyzed.
Then, from nowhere, a prince in disguise came to her rescue.  Of course it had to be a prince, although his disguise was so clever that someone else might have had her doubts.  He was dirty and unshaven and dressed like an unmade bed, and walked as though he had just stepped off a very fast merry-go-round.
"Good evening, missy!" he slurred.
"Oh I am glad to see you, kind sir!  Please can you help me?" she wanted to say in her sweetest, most princess-like voice.  But in her state of paralysis she was unable to form words and sounded more like a baby choking on its bottle.
The prince, no doubt reading her mind, saw the creature and in his loudest and bravest voice, yelled "Shoo!"   The creature, seeing what it was up against, did not hesitate but turned and scurried with remarkable speed down the nearest drain, never to be seen again.
"How can I ever thank you?" she didn't even need to say before he answered her.
"Got any change?" he asked hopefully.
Immediately she dug through the bottom of her purse and came up with hands overflowing with coins.  His eyes blurred with gratitude as he took her offering and fled into the night.
She headed home to her tower, heart and purse both considerably lighter.  Forty-five minutes and a phone call later, she was curled up on her soft down mattress (without a single pea under it) eating Buffalo wings out of a Styrofoam box.
*             *             *
Now you may think that princesses don't eat out of Styrofoam boxes, but this is my story.  Literally.  As in it really happened to me one night, not too long ago in fact.
If you doubt that I am a princess, there is not much more I can say to convince you.  If you doubt that there are terrifying creatures like that in real life, Google "water bugs in NYC" and click Images.  If you doubt the existence or identity of my prince, know that I have not seen him since, but I am not without hope.
Soon I will go for more Buffalo wings.
The End.
---
Photo Credits
Featured Image:
By Laya Gerlock from Philippines (New York, New York) [CC BY 2.0 (http://creativecommons.org/licenses/by/2.0)], via Wikimedia Commons
Top Image in story:
By Paulo Barcellos Jr. (http://www.flickr.com/photos/paulobar/230134559/) [CC BY-SA 2.0 (http://creativecommons.org/licenses/by-sa/2.0)], via Wikimedia Commons