As promised, this week we are solely sanguine here on the range, after last week's venture into the deep.
-1-
First, a cultural confession: I never really understood the enormous draw of Sex and the City. I watched a few partial episodes but just couldn't relate. All that endless talk about the S word—shoes.
I am otherwise secure in my femininity but do not like 1) shopping or 2) shoes, and shopping for shoes is probably among my least favorite activities in the universe, ranked lower than visits to doctors who deal with orifices. (You know, like dentists.)
-2-
My loathing for foot apparel is apparently a matter of nature not nurture. Even as a pre-verbal child, I would remove my shoes and hide them with great ingenuity, to the dismay of my parents. I managed to lodge one down behind a radiator, and another behind a couch cushion no one ever moved. One spring, my special orthotic shoes (which cost a small fortune) disappeared shortly after purchasing, and were found only months later outside in the pachysandra. I spent the summer barefoot.
Since going barefoot in NYC is not really an option, I have settled for two shoe seasons: boot season and flip-flop season. Boot season involves buying a size larger and lining with socks to mimic slippers (which I actually don't wear since in my sixth floor, home-heat-rises apartment I can go barefoot). Flip-flop season should start any moment now, when the temperature reaches, say, 50 or so.
-3-
My contempt for apparel is not restricted to my feet. Being single and without offspring I can comfortably forgive Eve (and Adam!) for the multiplication of childbirth pangs, but I am somewhat less generous when it comes to the need to creatively cover our nakedness. Fashion for me is an F-word.
-4-
It is for this reason that I sit sipping a concoction that is not wine but has subtle notes of mulch and strong overtones of freshly mowed lawn.
Not because it is Lent. Let's be real: when I fast, I think about food, not Jesus. Nor because of Vanity, while I am by no means immune to it, Sloth definitely is the trump card for me in the Deadly Sins Department.
No, this Sod Smoothie is so that I can make it through the change of seasons (ideally the next four or forty) without entering a Fitting Room. A few pounds less and I can squeeze into the dresses that were purchased when a more style-savvy friend took me on my last big clothes shopping trip (in 2012).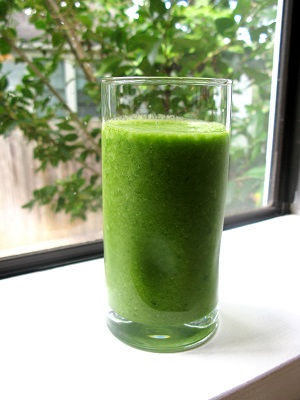 -5-
Since I am all about sharing, here's the smoothie recipe:
1 cup of water with 4 ice cubes
Spinach (1 c. fresh baby, but you can also sub frozen or cooked regular)
Parsley (1 large handful, fresh only, not dried!)
Celery (1 or 2 stalks, ideally with leaves—essential for fresh grass taste)
Green Apple (whole if you like yourself; half if you are watching sugar or carbs)
Lemon Juice (one half of a lemon–juice only, or include ¼ of peel if the lemon is organic—this will greatly increase your penance Vitamin C)
SP Complete (this is a protein powder sold by Standard Process; not necessary but adds a nutritional boost and also fresh muddy flavor).
Miscellaneous Green Things (whatever you have in your fridge should work, just a little though, and only those that were green when they first entered your fridge)
Put all these in a super fancy blender (like a Vitamix or anything else with the power to pulverize a shoe) and blend for one minute on smoothie setting or high. Then pour into a glass and offer it up enjoy!
-6-
Anyone who knows me or is subject to my Facebook feed was no doubt anticipating my semi-annual rant against all things DST on the morning of Spring Forward this week.
The Voice-To-Text on my phone sensed the disruption and helpfully translated "I have not yet gone to Mass" as "I have not yet gotten smashed." (True story).
But as I work on joyfully receiving the Light this Lent, I have decided not to whine about the wretched loss of sleep and sanity, the increased risk of car accidents and heart attacks, or even the arrogance of a government playing God by deciding when to let there be light.
And there's no need to get wasted because thanks to DST this whole week is a simulated hangover without the work or expense of drinking. Cheers!
-7-
Oh my goodness Grace you really take your titles seriously, don't you?
Why yes, yes I do.You're welcome.
---
Visit to the American Girl Doll Store on 5th Avenue, where the Girl of Year 2015 is Grace. The sign says it all.  Waiting for my royalty check…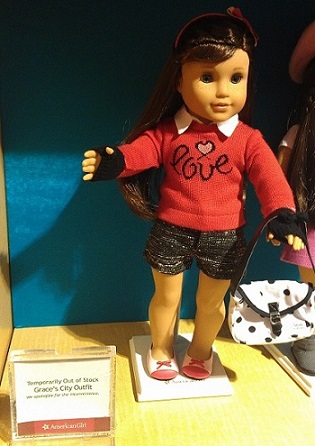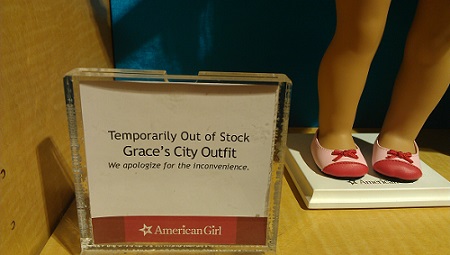 ---
For other posts that may actually have something to say, head on over to the Seven Quick Takes Link Up at This Ain't the Lyceum.
---
Other Photo Credits:
Featured image
By Jairo [CC BY 2.0 (http://creativecommons.org/licenses/by/2.0)], via Wikimedia Commons
Green Smoothie
By Kari Sullivan from Austin, TX (Green Smoothie) [CC BY 2.0 (http://creativecommons.org/licenses/by/2.0)], via Wikimedia Commons