Some feast day fun in honor of biblical scholar St. Jerome
Note: The following is compiled from actual student essays, projects and test answers submitted over the years.  This document was not edited for spelling or theological correctness, and therefore has no imprimatur from either the Church or the teacher.  

Mary was a virgin mother, who was confronted by the angel Gabriel in her sixth month and told that she was going to bare a child.  This was the Good News, especially to Joseph who one day had tears in his eyes, thinking he had performed adultery with Mary.
One evening Mary was riding with her husband Joseph, who was a carpenter, in a town called Bethlehem when all of a sudden Mary felt labor pains and her water broke.  Joseph tried to get Mary to a hospital but couldn't find one so he took her to the closest hotel where she gave birth to the baby Jesus in a manger.
The local shepherdess, after being visited by an angel, saw stars.  The shepherds hearing this went to Bethlehem and found Jesus in the manger with the Magi, who brought Frankenscents and Murr.  Said Mary, "Myrrh is kind of weird but that's okay."
Eight days after Jesus was born he was presented in the temple and got left behind.  He was found in that same temple twelve years later.  His mother Mary understood that his loyalty was to a larger family.  "We gave him roots, now we had to give him wings," she said.  We celebrate this every January 1st on the Feast of the Serenity of Mary Mother of God.
Jesus was a very nice man and a very spiritual person.  He gave good advice and works of mercy like "Demolish sinners; Construct the Ignorant; Bare your wrongs."  Jesus was a great man and had the biggest heart.   He was well none for his miracles, such as the two blind men, though he shocked a lot of people.  Once he was preaching to a great multitude.  He did not wish to send them away hungary with the fear that they might collapse, so he fed them poor bread and fish of plenty.
He started a Church and said "the gates of the Netherlands will not prevail against it."  The Church has three parts.  The Church in heaven is called the Church Triumphant, in purgatory it is called the Church Suffering and on earth it is called the Church Malignant.  The Church is led by the Pope; Pope Benedict Arnold resigned and now we have Pope Frank.
Jesus said "Let the little children come to me" but was against youth in Asia.  He had lots of disciples but only twelve apostles who were his friends.  Some people thought he was crazy and wanted to see him stoned.  Others were annoyed because he was always about his father's business.  Some said he was a son of the devil because he cured people on holidays which are supposed to be days off from work.
Jesus the Son of God who was born of the Virgin Mary, tragically died last week after being condemned by the Pontiac Pilot.  He was raised by Mary and her husband Joseph, a local carpenter.  He was a great guy because he died for something he believed in. The punishment that was given to him definitely did not fit the crime.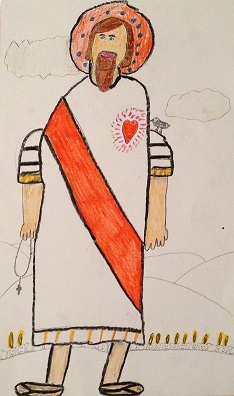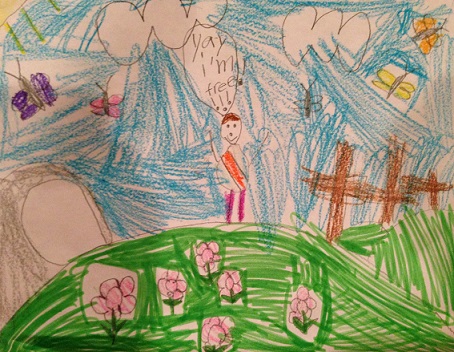 Artwork by Nicholas J. Paris, Age 8, and Theresa G. Paris, Age 7
© Grace-fed and Free Range, 2014